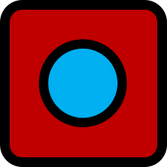 The Hurter is the first (and easiest) boss that spawns in driftin.io. It has a square body, with a blue circle in the middle. Its main attack is to ram into players, but will rarely use its secondary attack. Its secondary attack releases a medium sized pulse, which can attack all players in its radius.
_________________________
Health: Medium
Damage (first attack) low
Reload (first attack) medium
Range (first attack) medium
__________________________
Damage (second attack) medium
Reload (second attack) slow
Range (second attack) low
Ad blocker interference detected!
Wikia is a free-to-use site that makes money from advertising. We have a modified experience for viewers using ad blockers

Wikia is not accessible if you've made further modifications. Remove the custom ad blocker rule(s) and the page will load as expected.